The Lyons Share & Press
MAIN GALLERY
4 JUNE- 7 AUGUST 2016
THE LYONS SHARE: PHOTOGRAPHS OF THE LYONS FAMILY FROM THE ROBINSON COLLECTION
Opening Friday 3 June, 6pm


The Lyons Share: Photographs from the Robinson Collection celebrates the centenary of Home Hill which was built for the Lyons family in 1916. The exhibition showcases images made by the Robinson Family Business predominantly in the period comprising the 1930s and 1940s. The featured photographs have been printed from digital scans of the original negatives.
While highlighting certain aspects of the Lyons political life – Joe Lyons when he was Prime Minister of Australia and Dame Enid Lyons when she entered the House of Representatives – the photographs provide a glimpse into Joe and Enid Lyons family life at Home Hill. The photographic reproductions also provide a space for contemplating the role of the photographer in these times – particularly as many photographs of Joe and Enid Lyons were 'press' photographs.
The Robinson Family Business catered to a community of people from all walks of life, and it seems there is no end to the subject matter and the innovative ways they were portrayed. The series of family portraits photographed outdoors at Home Hill are testament to a photographer who experimented with poses and compositional arrangements. A selection of photographs also showcase the famous couple at special events either presenting trophies or as guest speakers.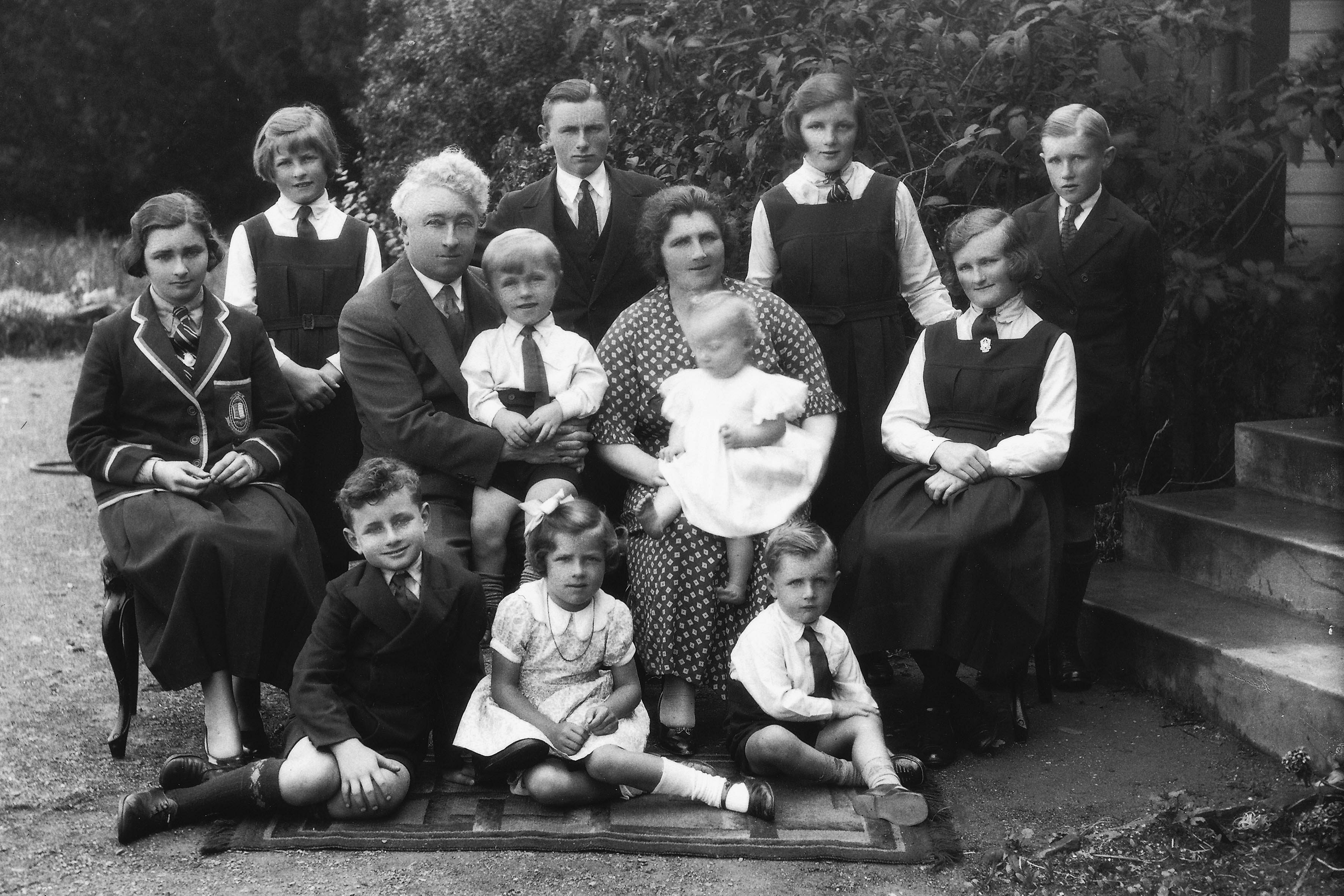 Image: The Lyons Family, Home Hill, 1935, Robinson Collection, DCC Permanent Collection
4 JUNE - 7 AUGUST 2016
PRESS: SELECTED PRINTS FROM THE DCC PERMANENT COLLECTION
Press presents prints from the Collection including etchings, lithographs, screen-prints and monoprints and highlights the diversity and skill prevalent amongst Tasmanian printmakers practicing over the past four decades. A highlight of this exhibition will be a series of prints by Bea Maddock (1934–2016).
This year, the Print Council of Australia celebrates 50 years by presenting the Year of Print. Press is included in this national program, which also contains competitions, workshops and exhibitions.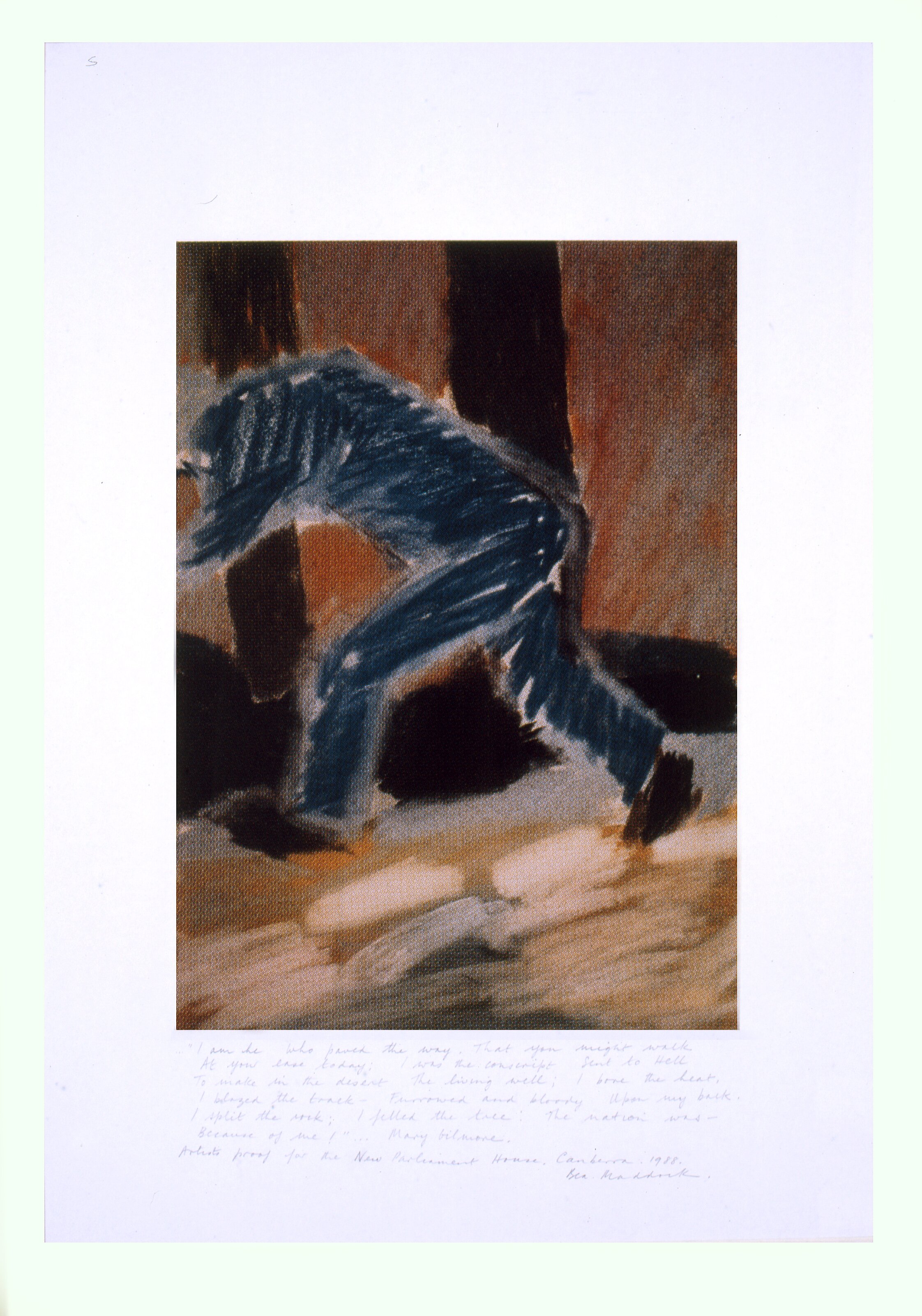 Image: Bea Maddock, New Parliament House Poster, 1988, photographic screenprint, works on paper. 1993.018b
THE LITTLE GALLERY PROJECT SPACE
4 JUNE - 2 JULY 2016
CON RHEE: THE WILDERNESS PILL
Opening Friday 3 June, 6pm


Con Rhee is an emerging artist who began his art career later in life, having studied and taught Biology at tertiary level for some time. He works in both glass and photography and has exhibited his works regularly over recent years.
Rhee's concepts explore such things as health – how it is maintained, and has been maintained in the past. He questions how society managed without pills and medications and from a personal perspective he believes that one way to maintain health is to be at one with nature. With this in mind, Rhee has coined the term 'The wilderness pill' which forms the title of his exhibition in The Little Gallery. The exhibition highlights the wilderness through a series of enlarged photographs that surround the viewer within the space and seemingly transport them into a sense of 'being there'.
"Based on experience, I've found a health promoting pill. It cost nothing & is highly efficacious. You absorb it naturally when you are present in the wilderness. It does wonders for your mental state, which in turn is reflected in the wellbeing & longevity of your body – i.e. your health. Given our origins, this "pill" was originally omnipresent in our environment. I call it "The Wilderness Pill"" – Con Rhee, May 2015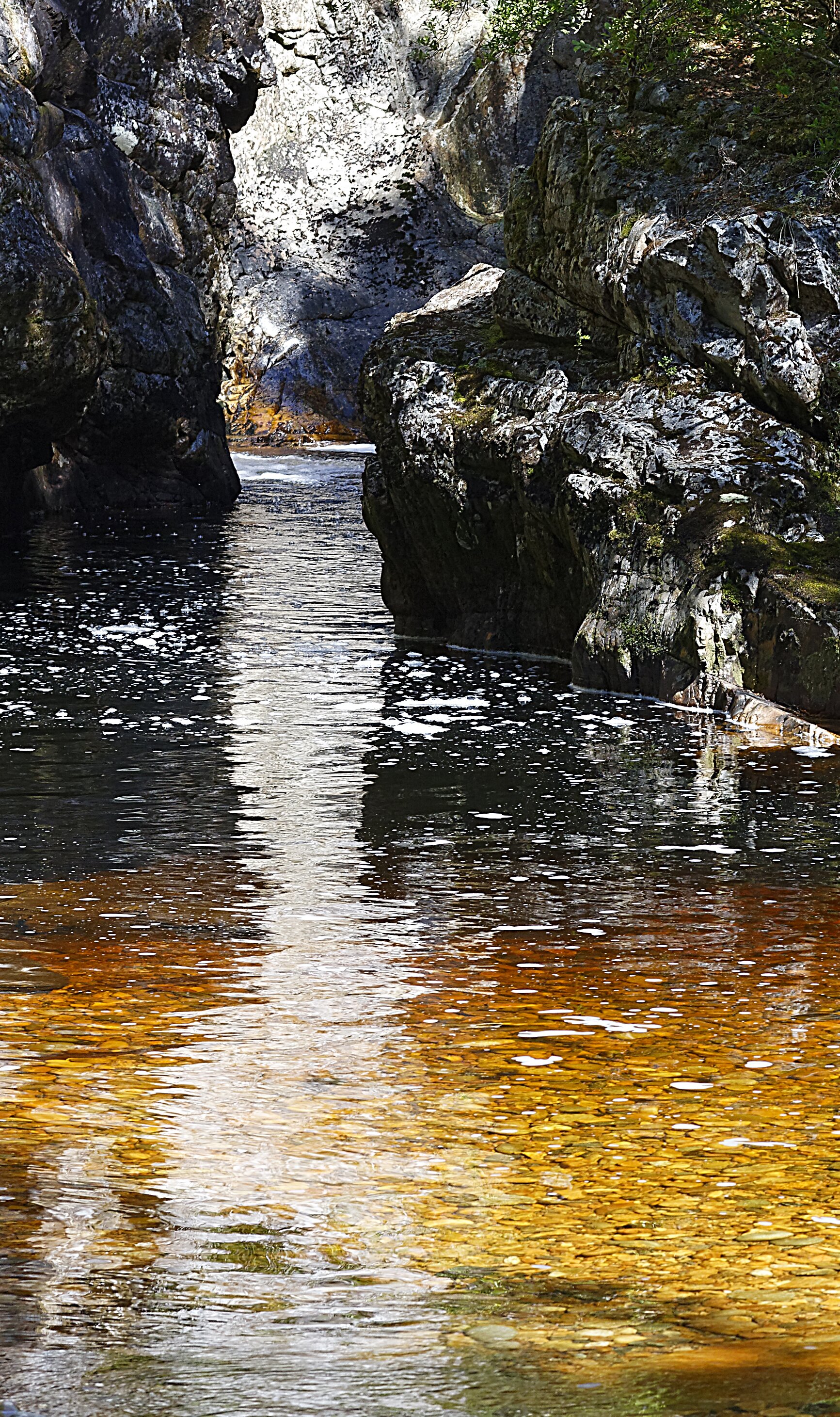 Image: Con Rhee, Dove River emerging from its canyon, 2015, vinyl on HIPS
3 JULY – 7 AUGUST 2016
CHERYL ROSE: CONNECTION TO LAND AND PLACE
Opening Sunday 3 July, 3 pm
In recognition of NAIDOC Week, the Devonport Regional Gallery is launching an exhibition of new work by emerging Aboriginal artist Cheryl Rose. NAIDOC Week celebrates Aboriginal and Torres Strait Islander history, culture and society.
Connection to Land and Place represents paintings by emerging Aboriginal artist Cheryl Rose. Rose lives in the North West of Tasmania and paints the land and places that she is connected to both spiritually and through her heritage. Her paintings are meditative reflections of the land that is both inspiration and a constant reminder of who she is and where she came from. As an emerging artist, Rose demonstrates great observational skills and accomplished techniques in acrylic painting.
Speaking of her work Reflections Familiar to Me (below) Rose shares: "I often come [to this place], sit here opposite the view of tussock grass on the other side of the Cam River. The view calms me, quiets my mind. Once I'm quietened, I tend to ponder about the area and why I'm drawn here. It's familiar. I'm familiar to the landscape, akin to my people that walked the muddy shoreline. The river recedes from the tussock grass revealing reflections. It seems untouched, even though industrial area is just behind the view."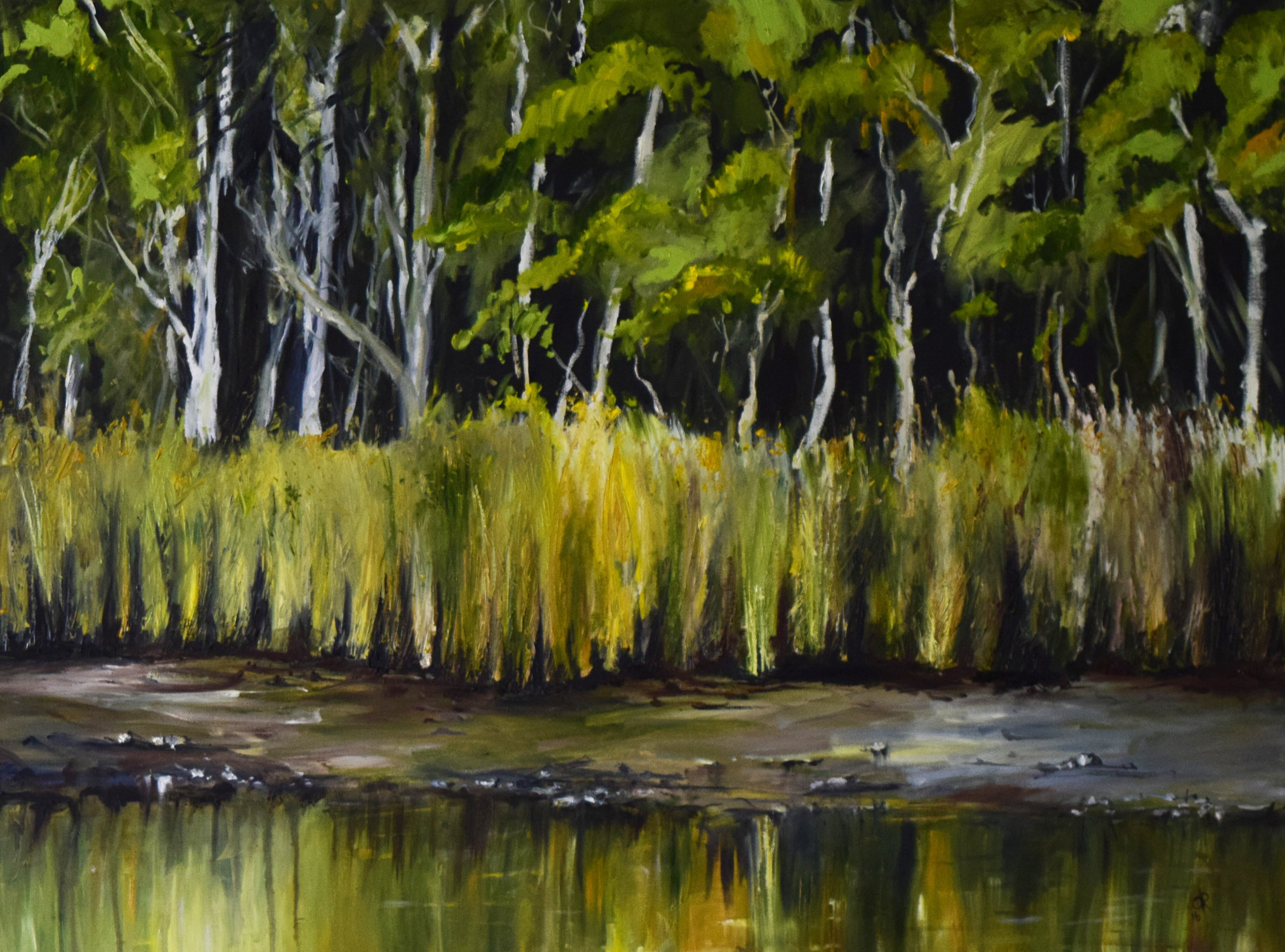 Cheryl Rose, Reflections Familiar to Me, 2016, oil on canvas