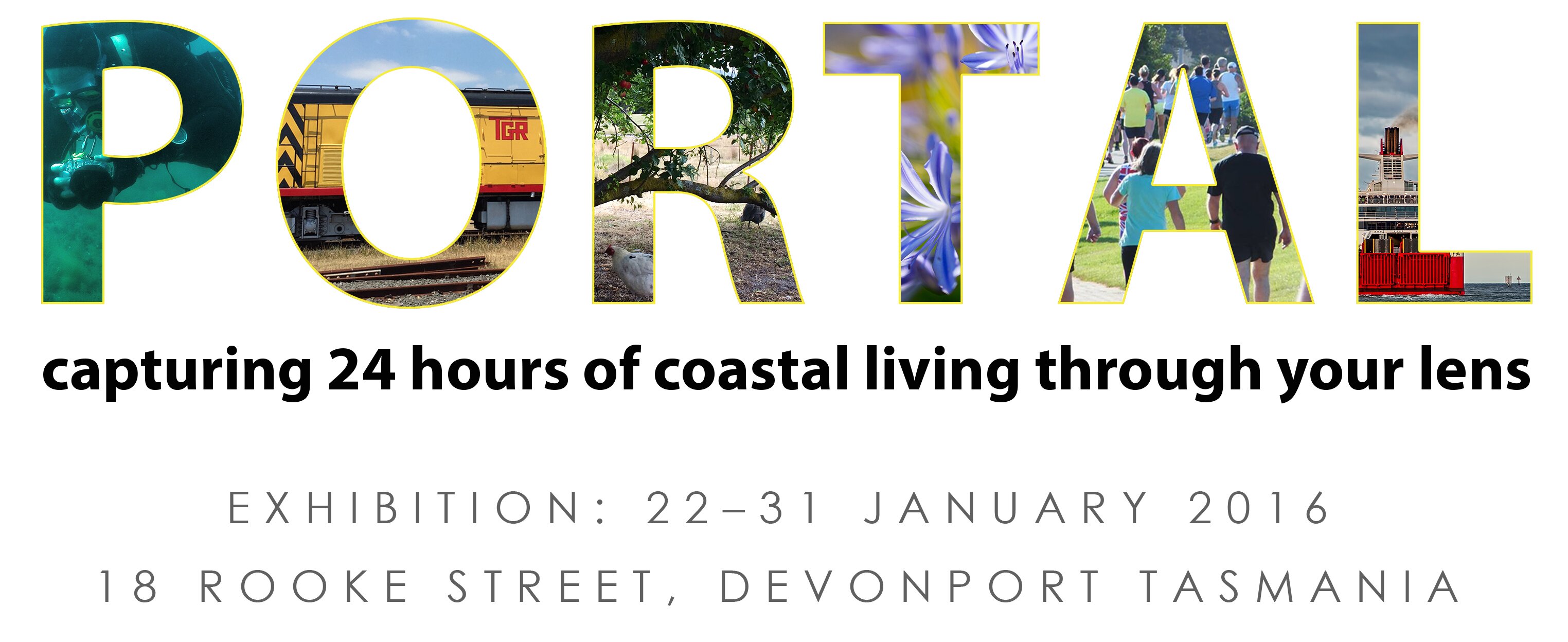 EXHIBITION: 22 – 31 JANUARY, 2016
18 ROOKE STREET, DEVONPORT TASMANIA
Devonport Regional Gallery presents the community exhibition, PORTAL, featuring 78 photographs from residents and visitors in Tasmania's North West captured on Saturday 2 January 2016. The exhibition will be on display in the windows of 18 Rooke Street, Devonport from 22nd to 31st of January, 2016.
Participants were encouraged to register their involvement through the Gallery's website prior to Capture Day on 2 January – of which 81 registrations were collected. Participants were then asked to capture any moment from their day on Saturday 2 January from across the North West. Photographs were received from Marrawah to Bakers Beach and at various times across the 24 hour period.
PORTAL provides us with a glimpse of life in this small corner of the world and celebrates the things and experiences we enjoy, cherish and love. Above all, PORTAL is a project about place – the places we inhabit and the places we explore. These photographs, which have captured fleeting ordinary moments in our day, provide an insight into our identity through the places we call home and the places that lure us in.
Click here for more information about the PORTAL Project
Supported by

---
PORTAL 2016 Submissions
Eunice Atkins, Marrawah

5:06 pm. Green Point is my favourite beach. The photograph is of people enjoying the clear waters and a cray boat on anchor beyond the breakers; Marrawah's iconic Mt Cameron in the background.

Tony Atkins, Hunters Island

4:34 pm. A shack on Hunters Island taken while on a fishing trip.

Ali Bea, Devonport

8:00 pm. "Local History" – I found Tiagarra to be haunting and sad; the emptiness of the building, the flags still and drooping, the sun slowly fading behind the sign. It seemed that there was a message in the image. Respect our past, we are blessed with it right here, yet the building remains empty and forgotten.

Geoff Blackburn, Ulverstone

4:00 pm. "Feeding the ducks and ducklings" – A meeting of two people at contrasting times in their lives. The woman visited the park often and had not met the young girl before, yet both seem to find some comfort in one-another's company. The girl was fascinated by the ducklings - perhaps only a few days old. Photograph taken at Tobruk Park on the Leven River.

Monte Bovill, Port Sorell/Shearwater

8:49 pm. Waves roll in at the very end of Freers Beach as two men fish off rocks and the day's light begins to disappear.

Rosemary Braid, Ulverstone

The washing line has been getting an extra workout with our children and grandchildren visiting over the Christmas holidays. Good times!

Chris Brier-Mills, Horsehead Creek

5:10 pm. Power boat test run and crew watching on.

Tania Brookes, Ambleside

12:00 pm. The unglamorous side of rowing.

David Broos, Devonport

8:00 pm. I was volunteering at Devonport Parkrun event no. 32 held at Mersey Bluff. We had 149 runners/walkers attend and I was the photographer. There were a number of other people volunteering too.

Belinda Brown, Wesley Vale

12:16 pm. My gorgeous Lab, Nelson, relaxing "Under the Shade of a Coolabah Tree".

Adele Burley, Somerset

2:16 pm. This picture is of my fiancé and our two sons. This picture represents family, love and determination. I don't make resolutions, but this year I have made myself a promise to do better and be better and to not let anything stop me from trying. Just like my youngest in the photo, he wanted to go out to the sea and swim with his Daddy and brother and he wasn't going to let anything stop him from trying. I want to be like him.

Charlie Casey, Don River

7:22am. High tide at the Don River. Can you spot the Wren in the foreground and ship in the background?

Nadia Chatterton, Wynyard

12:22 pm. "The Wedding" – I was lucky enough to assist with taking some photos at a wedding held in Wynyard. The Bride and Groom displayed so much love and affection for one another and they couldn't have asked for a more glorious day.

Storm Clancy, Devonport

7:50 am. "A spider with its prey" – I found the spider with its snack under the rim of the birdbath while I was checking on my plants/garden that morning.

Helen Cole, Forth

3:42 pm. "Goat on a Hot Tin Roof"

Geoff Coles, Forth

7:30 pm. "Willis and Deb" – After dinner, Deb and I had time for a coffee and a play with Willis who is still full of energy after an 11 km late afternoon walk along the Devonport foreshore and river.

Anne Davies, Acacia Hills

5:00 pm. From our deck in Acacia Hills, we live in a truly beautiful part of the world!

Lee Dixon, Don

11:20 am. While walking my dog the Don River Railway train was taking passengers for a ride.

Jocelyn Flint, Three Hummock Island

8:30 am. This photograph was taken as we were leaving Three Hummock Island where we had been staying with our friends for two days. Aboard the Montagu Tom, we arrived back at Montagu an hour and a half later.

Kerry Forrest, Table Cape (from East Wynyard)

10:54 am. A short pause during my ride from Burnie, on this smoky, sultry, overcast morning.

Suzannah Gale, Penguin

I love celebrating quiet moments at the beach. I try to balance rocks as a form of focus on creation. This photograph was captured on Johnsons Beach.

Jacob Gleeson, Devonport

8:30pm. "Urban Landscape" – I come across this location over 2 years ago, and I came back to find the van still there. I wonder how long it will be there?

Kelly Grey, Quoiba

6:00 pm. I wanted to show the dryness of the year yet the ability for this beautiful old plum tree in our yard to still flourish, provide food and a beautiful shady spot.

Vicki Griffiths, Ulverstone

6:20 am. "Australian Jamboree Experience 2016" – After 18 months of preparation for my two children Vienna (12yrs) and Dallis (14yrs) to attend Scout Jamboree in Sydney for 15 days, they bordered the bus this morning.

Sean Grundy

The best friend in the world.

Peggy Hanlon, Squeaking Point

6:24 pm. My twin grandsons, Jax & Dexter Miles, playing in the shallows of the Rubicon River.

The boys love to come out to stay at Bibi's (Grandmother) house.

Graham Harding, Devonport

"Leaving" – Spirit of Tasmania.

Neil Hargreaves, Penguin Island

12:30 pm. My image depicts Penguin Island in the middle of the Rubicon estuary, off Hawley Beach with Port Sorell in the background. The image is a panorama stitched from a number of images shot from 120m above the river from my DJI Inspire1 drone.

Vicki Hefferon, Rocky Cape

Photo of my shack's back yard.

Peter Hutton, Black River

6:30 pm. "Paradise Lost" – I was very sorry to find this scene to photograph at Black River campgrounds. It is unfortunately a true reflection of (I hope) a small section of the coastal community.

Georgia Hyde, Devonport

5:15 pm. As I was driving home, I glanced in the side mirror and noticed the reflection of the silos framed within my rear vision mirror. I couldn't stop there in the road so I pulled over.

Sharna Jordan, Sheffield

2:15 pm. A lovely view from Eagles Nest Retreat that you could sit and just soak up for hours. What a magical place!

Emily Kennel, Sheffield

7:48 pm. Rhys chasing sheep in the foothills of Mount Roland as Bowie eagerly looks on.

Andrej Lightheart-Apse, Devonport

10:54 am. "Waiting in Traffic / Already Elsewhere" - Car stuck on Formby Road in morning Devonport traffic, with Grandpa (self) in back seat with grandsons who ignore the travel view outside - and will ignore it for the entire trip to visit family in Hobart, being already engrossed in their favourite computer games. In the moment I wasn't trying for some aesthetically or technically eye-catching photo. It's all about the multiple ironies; of family time (as can be had in the back of a car) skewed in favour of the hand-held computer screen, and also the countryside views that will also be diminished in favour of the little cyberworld!

Rhys Male, Sheffield

7:00 pm. Maggie getting comfortable with her favourite chicken.

Fiona Marchand, Stanley

This photo was taken of the Nut at Stanley from near Highfield Historic Site. We were visiting from Devonport.

Georgie McKie, Eugenana

This photograph was taken along Melrose Road, near the bridge, in Eugenana.

Ron McKie, Forthside

10:37 am. Taken along Forthside Road, I liked the range of colours in the cabbages awaiting harvest.

Lucy Milne, Devonport

A quick milkshake after the cinema.

Tammy Milne, Devonport

4:00 pm. Lucy and Ruby in our backyard.

Mis Mizen, Latrobe

5:27 pm. "Hornby 1842" - This clockwork Hornby locomotive, tender and guards van was a toy purchased circa 1950. The clockwork spring had broken and was recently repaired, which permits the train to be operational. In all other respects the train and sundry equipment including original boxes are in good condition. It was brought out over the Christmas period to demonstrate to grandchildren that toy trains did not commence with "Thomas the Tank Engine". Children were enraptured (and so were the adults).

Reharn Morris, East Devonport

7:00 pm. I had just bought this plant at the plant nursery and I love it. The colour and sunny character reminds me of summer.

Dawn Murray, South Preston

1:30 pm. After taking a very smoky stroll through Leven Canyon and getting some blue hill smoke shots we took South Preston Road home and came upon the beehives, which I had to stop and capture.

Danielle O'Brien, Lillico

Waiting for penguins at Lillico beach.

Kim Ogden, East Devonport

9:49 pm. "New Life" - After a long three weeks, this little chick was welcomed into the world. He arrived a day later than his siblings who made their appearance on New Year's Day.

Sally O'Wheel, Forth

6:00 pm. My photo was taken in Stephen Street, Forth. It is taken from the top of the steps on the south side of our block, coming down to the house from the garden, and looking beyond Forth to the hills on the north east side of the river.

Anna Paice, Rubicon Estuary

"Portrait of an invasive alien: Rice grass in the Rubicon Estuary" – Rice grass was introduced from England to Tasmanian estuaries to help develop deeper channels for shipping, it has since become a noxious weed that infests mudflats close to the high tide mark and out-competes native species and changes habitats for invertebrates, fish and seabirds. It is an invasive alien that needs to be eradicated.



Audrey Pangas, Gawler

This is a picture of Audrey's 'baby' on the floor of her bedroom, the bedroom that was also the childhood bedroom of her two uncles and her two great aunts before that. Three generations of a family's childhood to which this vintage carpet has born witness.

Jessie Pangas, Gawler

9:30 am. This photograph was taken at Gawler General Store, my local shop where I was filling up for a morning out with my two sisters.

Noah Pangas, Gawler

I chose to take this picture of some flowers in our garden because they are really bright and colourful and beautiful.

Katerina Papas, Moriarty

Cycling through Moriarty I saw a rainbow created by the irrigation system.

Yolande Parsons, Devonport

10:30 pm. Molly's is iconic landmark and a favourite pub for many North West coast people. I like the black & white concept as it reflects a contrast on the modern use of a pub of pokies and gaming with the old fashioned Irish sign and curves of the building.

Lesley Proctor, Ambleside

7:30 am. Picking the raspberries.

Helen Rappolt, Ulverstone

4:00 pm. Feeding the ducks at Tobruk Park on the Leven River, Ulverstone.

Justin Rattray, Devonport

This is a photo of my 7 year old son (Finn Rattray) drawing with chalk on the front path at home. I flicked the camera to the colour sketch setting and snapped this shot.

Monica Reeve, Granville Harbour

3:00 pm. Day trip to the West Coast – four hour return walk into a coastal seagull rookery.

Ineke Robbard, Ambleside

7:30 pm. I like experimenting with different techniques with photography and oil and water can give a dramatic effect. Using lighting and glass dish, water, oil and coloured paper underneath gives it the colours you can see and my tripod and camera with remote shutter release decreases camera shake, my camera is a Canon 700d DSLR and I love using it for all types of photography.

Nona Roberts, Devonport

12:46 pm. My kids taking a break from the waves at Mersey Bluff, soaking up the sun.

Kylie Russell, Spreyton

2:00 pm. "Busy Bee" – This photo was taken in our vegetable garden and shows a honey bee gathering pollen from the purple garlic heads growing in our hothouse. The photo best shows the tiny hairs and the detail of the wings, you can also see the purple detail of the garlic flower petals.

Judi Rustage, Somerset

3:08 pm. "Craft Room" – It has been too hot for sewing to finish my latest quilt.

Lissie Rustage, Wynyard

1:38 pm. Marty, a dear elderly friend, looked so peaceful enjoying her meal with a glass of Merlot.

Sylvia Sayers, Devonport

5:15 pm. "Home Sweet Home - Living in Paradise" – I love relaxing in the garden.

Stacey Sheehan, Devonport

10:30 pm. This is William at Mersey Bluff after a swim at about 1030. The big smile is because we are off to Drift for coffee and ice-cream.

Jerry Sheers, Bakers Beach

10:00 am. Eagle Point Road.

Cheryl Sims, Tarleton

8:58 am. Asimatree Garden, Bucks Road Tarleton

Kelly Slater, Railton

1:21 pm. "Nearly Ready" – The photo was taken in our back garden just outside Railton. My husband was checking the state of honey production in one of his hives. The bees had produced a lot of honey but it's not quite ready to harvest – the cells haven't been capped yet.

Craig Soward, Somerset

8:51 am. The photo is of a crew harvesting broccoli for the fresh market, Seabrook Road, Somerset.

Jacqui Surtees, Port Sorell

This photograph was taken at Panatana Park, Port Sorell. My boys playing cricket at our annual extended family get together.

Annie Thurlow, Devonport

10:00 am. Devonport Lighthouse is one of Devonport's major landmarks. I always love the colour contrast of the red and white lighthouse against a brilliant blue sky. So, I was lucky with the weather. I took a few interesting angle shots but decided I liked this one best. I am taking a photo of another woman taking a photo and expect she is a tourist also enjoying this beautiful landmark.

Sally Todd, Somerset

10:00 am. "Morning reflections" – A beautiful time of the day to kayak on the Cam River and enjoy the peace and tranquillity.

Jacki Waters, Forth

9:24 am. Our Christmas visitors left on the 'Spirit' last night. Polly the dog and I have just been for a walk with my sister and niece and now we have finally stopped!

Kylie Waters, Forth

4:51 pm. My daughter and I are washing our car, which we call 'Bruce' because he is a Silver Shark with a dorsal fin for an antenna just like Bruce in Finding Nemo. He was really dirty because we spent New Year's Eve out past Taylor's Flats. We are playing with the water to make a rainbow. You can see us in the reflection – she is in her carrier having a lot of fun. It is a really warm afternoon and perfect for water play.

Bill Wells, Ulverstone/Penguin

Hay bales in the paddock.

Grant Wells, Burnie

1:42 pm. "Agapanthus" – A beautiful day and the light playing through the agapanthus blooms demanded a photograph.

Samantha Wells, Ulverstone

3.00 pm. Photograph of a Tiger Lily taken in our garden. We were lucky enough to have two flowers for the New Year.

Phillip White, Wesley Vale

11:02 am. "The Pipe" – Taking advantage of the warm temperatures, members of the Leven SCUBA club dived the outfall pipe of the decommissioned Wesley Vale Mill. This is an easy dive, and the old pipe is covered in growth and home to a variety of marine species. The diver is James Ruckert, intent on adjusting his camera settings.

Caylee Wilson, Natone Forest Reserve

12:10 pm. My favourite images always feature humans in nature in its most basic form, so I always try to recreate something I feel on the day, being in nature and all its glory.

Kahlea Wilson, Crayfish Creek

I snapped this photograph whilst camping at Crayfish Creek. It is beautiful seeing wildlife getting around. The kids and I enjoyed watching it.