ENTER NOW
ABOUT
The Tidal: City of Devonport National Art Award is a biennial, acquisitive award. Artists residing in Australia are invited to submit 2-dimensional artworks that reflect on tidal – the natural, cultural, personal or political concerns related to the sea and coastal regions.
The Award provides a contemporary platform for artists to ponder the myriad perspectives and challenges inherent within the interconnections of land and sea while also encouraging excellence in concept, innovation and execution of 2-dimensional artwork.
The $15,000 Major Award is sponsored by the Devonport City Council and the Devonport Regional Gallery Friends Committee. $1,000 People's Choice Award is sponsored by Collins Real Estate, Devonport. This is a non-acquisitive award selected by the viewers of Tidal. The Award is announced at the conclusion of the exhibition.
The Award aims to:
Encourage experimentation within and across mediums relative to 2-dimensional works of art
Present a stimulating and diverse exhibition of contemporary Australian art practice to the Devonport Community and visitors to the region
Promote excellence in contemporary visual art that reflects on natural, cultural, personal or political concerns related to the sea, coastal regions and coastal communities
Enter here: Tidal.18 Online Entry Form
2016 FINALISTS EXHIBITION
26 NOVEMBER 2016 – 29 JANUARY 2017
Opening & Award recipient announced: Friday 25 November 6:30 pm
This year's judging panel consists of two nationally recognised art experts. Jane Devery, Curator of Contemporary Art at the National Gallery of Victoria (NGV) and Jane Stewart, Principal Curator of Art at the Tasmanian Museum and Art Gallery (TMAG).
2016 Winner
Julie Fragar was presented the $15,000 Tidal: City of Devonport National Art Award 2016 by Mayor Steve Martin for her work Antonio Departs Flores on the Whaling Tide at the 2016 Finalists Exhibition on Friday 25 November. Antonio Departs Flores on the Whaling Tide is a richly layered painting that contains multiple images and references. The Brisbane-based artist, Julie Fragar, made the work after travelling to the Azores Islands in Portugal. Here, her ancestor Antonio, aged 12, ventured onto a whaling ship in 1850 – arriving in Australia 6 years later.
"Julie's painting captures the wild adventure in a way which brings the present and the past together. The historic narrative reminds us of the continuing patterns of migration that reflect Australia today and is a compelling response to the 'tidal' theme." said Tidal 2016 judges Jane Stewart and Jane Devery.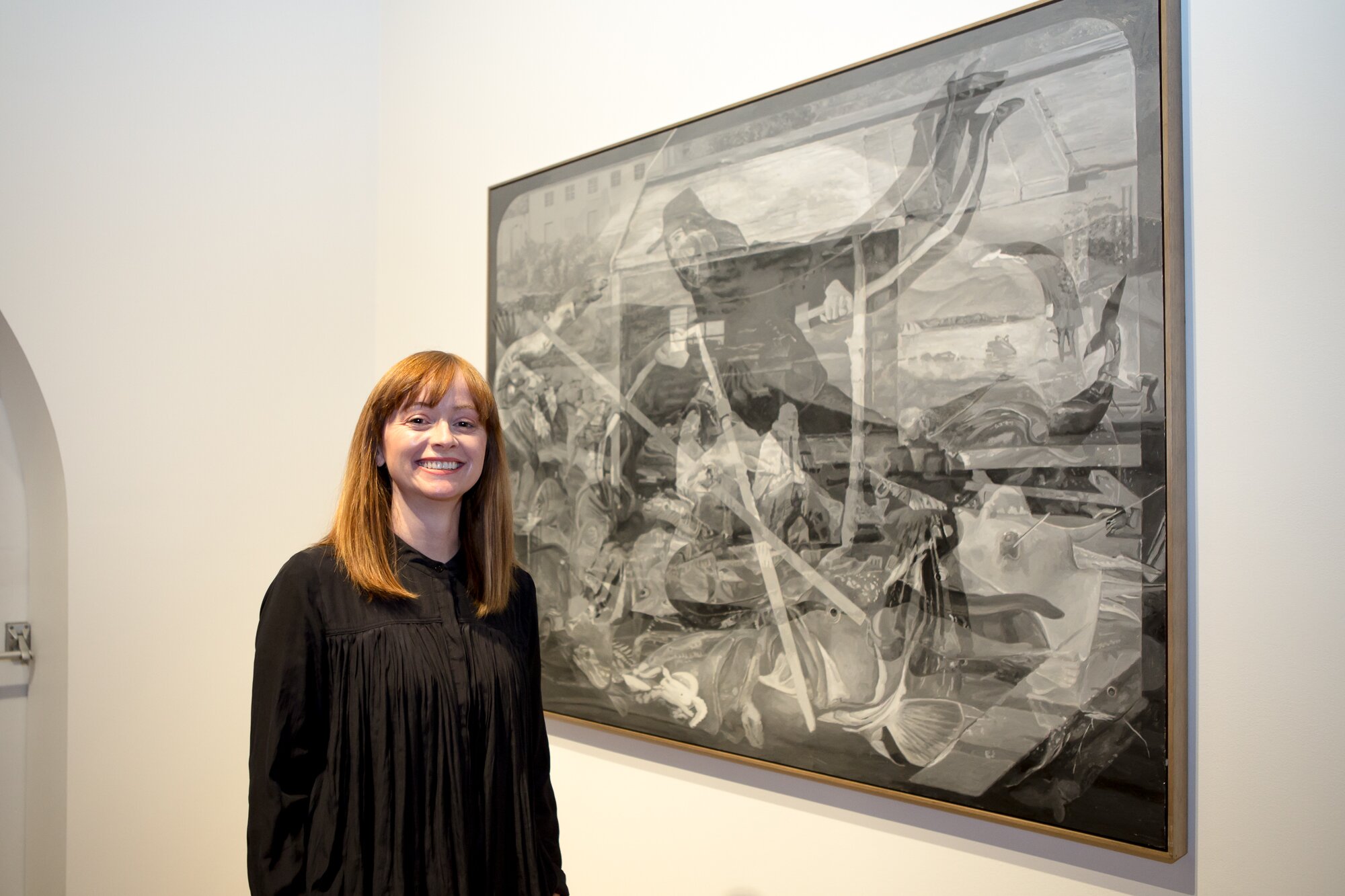 Tidal 2016 recipient Julie Fragar with her work, Antonio Departs Flores on the Whaling Tide, 2016, oil on board
2016 Finalists
Diane Allison / Louisa Bufardeci / Janet Bush / Alex Davern / Julie Fragar / Joey Gracia / Helga Groves / Katherine Hattam / Liam James / Anthony Johnson / Amber Koroluk-Stephenson / Michael Muruste / Penny Mason / Sara Manser / Tess Campbell / Troy Ruffels / David Stephenson & Martin Walch / Evelyn Vyhnal / Megan Walch / Matt Warren / Carole Wilson / Anne Zahalka
People's Choice Award
Visit the Tidal: City of Devonport National Art Award Finalists Exhibition and vote for your favourite work. The winning artist will receive $1,000, courtesy of Collins Real Estate, and will be presented in the final week of the exhibition at the Tidal Festival in late January.


---
TIDAL FESTIVAL
23 - 29 January 2017
Devonport's youngest arts and culture festival is presented every two years by the Devonport Regional Gallery. Our third festival will take place in January 2017 at various indoor and outdoor venues across Devonport. Whether it be an art, sport, environmental or recreational activity we are sure you will find something that inspires you. We have the entire community covered - from the very young to the elderly; the artistic to the athletic; the sun lovers to the nature walkers so we hope you are enlightened and entertained with our tidal offerings.
TIDAL ARTISAN STREET MARKET
Our inaugural Tidal Artisan Street Market on Friday 9 December transformed Rooke Lane and the Gallery into a vibrant market place for over 30 artists, makers and designers to sell their wares!

---
For further information please contact the Devonport Regional Gallery: P. (03) 6424 8296 or E. artgallery@devonport.tas.gov.au