ART SPARK (AFTER SCHOOL ART PROGRAM)
WITH JESSIE PANGAS
Devonport Regional Gallery's after school art program shines a bright light on creativity!
We're offering a series of after school workshops for Primary and Secondary students with local artist Jessie Pangas to explore ideas, spark the imagination and develop an appreciation of the visual arts. No prior skill or knowledge is required, just a healthy sense of curiosity and desire to create. With only six places available in each group, Jessie offers a focused, individual and tailored approach for participants.
Tuesdays: 9 May – 4 July (8 sessions, excluding 30 May), 4.30–5.30 pm
Devonport Regional Gallery
Full term rate: $100 / $85 members (all sessions)
Casual rate: $14 / $12 members (per session)
LIMITED PLACES
Bookings essential: artgallery@devonport.tas.gov.au or (03) 6424 8296
---

LIFE DRAWING
WITH JUNE WILSON
Learn the various techniques used to draw the body with a life model presenting a range of postures. All levels of experience welcome.
4 WEEK COURSE - FULLY BOOKED
Tuesdays 6, 13, 27 June and 4 July 2017
6–8 pm
Cost: $80 / $70 members
All materials provided
Bookings essential: 6424 8296 or artgallery@devonport.tas.gov.au
---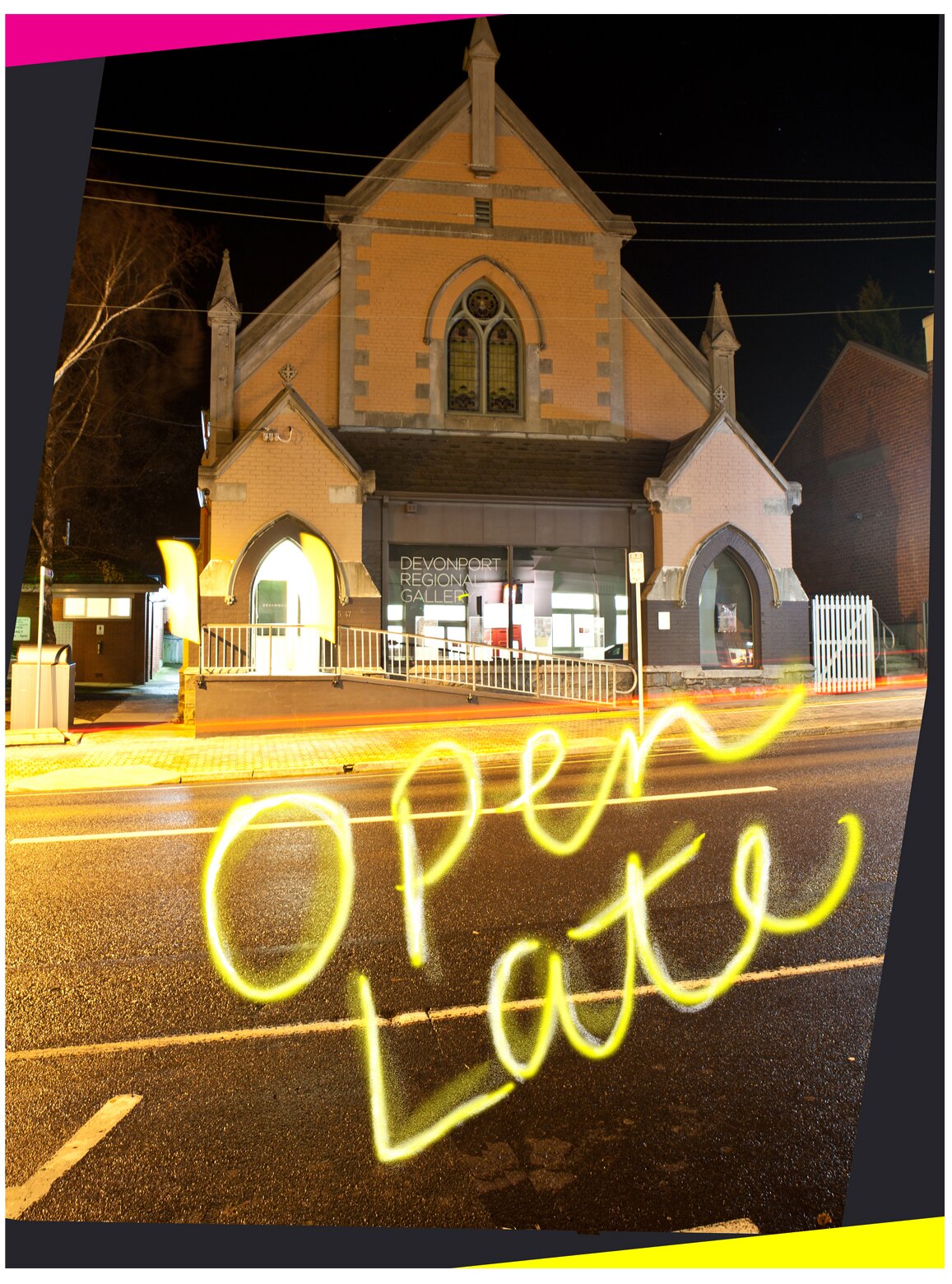 TWILIGHT TOUR
Discover the works in the touring exhibition by Australian artist Tony Ameneiro, Head Over Head with Gallery Director Ellie Ray. The exhibition explores issues around mortality and regeneration.

Thursday 29 June, 5.30 pm
Gold coin entry
Wine and cheese available
---
BOOKS + ART READING GROUP
Monthly meetings
Next meeting: 17 July, 6 pm
Yearly membership fee $25/$15 conc.
Limited places, please register: P. 6424 8296 or E. artgallery@devonport.tas.gov.au
July book: The Signature of All Things by Elizabeth Gilbert
The Devonport Regional Gallery and the Devonport Bookshop have joined forces to celebrate art and literature. Books are selected based on the exhibitions displayed at the Gallery. We aim to create an open, friendly and thoughtful atmosphere for people of all ages. Books can be purchased at Devonport Bookshop 83 Rooke St Mall. Reading Group members receive a discount on books.
---

CITY SHAPES THROUGH THE LENS
SCHOOL HOLIDAY WORKSHOP
Explore the shapes and spaces of Devonport with local photographer Kelly Slater, as you discover the intricate details hidden in our cityscape. Participants will develop basic digital photography skills in this three hour workshop, from composition, capturing and online editing, using prints from the Robinson Collection as inspiration.
Thursday 20 July, 10 am – 1 pm
Devonport Regional Gallery
Cost: $18 ($15 members)
Recommended age: 8–12 years
Bookings essential: 6424 8296 or artgallery@devonport.tas.gov.au
All materials provided
---

TUCKER, OTTAWAY & WATKINS
Presented as part of Devonport Jazz 2017
Drawing on a wide range of influences from blues and folk to Latin and jazz, Eleanor Tucker possesses a uniquely warm and whimsical style, and a voice once described as "comforting as mulled wine in a blizzard". Eleanor will perform her repertoire of originals and jazz standards with well-known jazz pianist, Kelly Ottaway and drummer Grant Watkins; adding heart-warming vocal harmony and a solid rhythmic backing.
Thursday 27 July, 6–8 pm
Devonport Regional Gallery, 45 Stewart Street, Devonport
Cost: $20
Bookings essential: 03 6424 8296
Bar facilities and refreshments available for purchase
Members of the Gallery receive one free drink on arrival
Eleanor Tucker – vocals
Kelly Ottaway – keys
Grant Watkins – drums
---
Note: payment must be made at the time of the booking. No refund available less than 24 hours from the start of the workshop.