15 MARCH – 28 APRIL
Exhibition open to the public from Friday 15 March
Official Opening Tuesday March 19, 5.30 pm
In Conversation with the curator and artists Wednesday March 20, 12 noon
MAIN GALLERY
felt presence
Part of TEN DAYS ON THE ISLAND, 2013
Curator: Ellie Ray
Artists: Tara Badcock, Samantha Clark, Anita Dineen, Anne Morrison, Irene Murphy, Claire Needham, Rosemary O'Rourke, Sharyn Woods
felt presence draws inspiration from real and imagined narratives based around the transportation of female convicts, and life in the female factories. The resulting art works reflect varied responses – from the physical to the emotional, from presence to absence, from collective memory to personal memory – yet they all reside within an empathic space of a 'felt presence'.
THE LITTLE GALLERY
Ten Canoes Rex Greeno
Rex Greeno's intriguing, meticuously hand crafted paperbark canoes vividly revive a Tasmanian tradition, illustrating that Aboriginal islanders remained as at home on the water as on the land. Studiously researched and constructed using all-natural and locally sourced fibres, one of these beautiful works of cultural art will be exhibited in each of the Ten Days Festival towns.

Anne Morrison, Tho lost to sight..., 2013, Acrylic and watercolour on paper, Triptych 87 x 87 cm each
| | |
| --- | --- |
| | |
| Tara Badcock, Trousseau (Hope and Will Power), 2013 and Ticket of Leave (Strength and Spirit) 2013, Installation view | Irene Murphy, Potential Space, 2013, Installation view |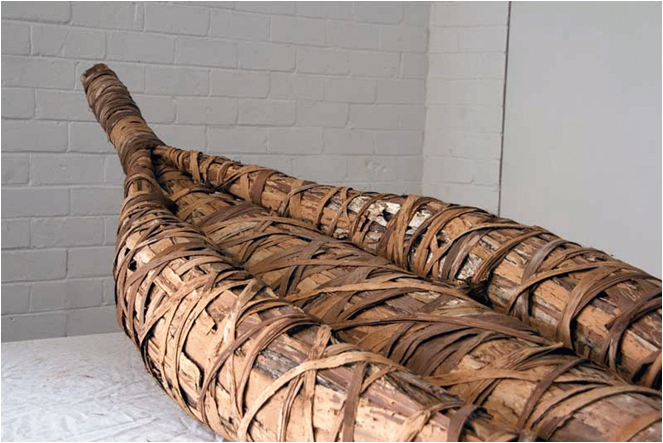 Rex Greeno, Canoe, 2013, Tasmanian paperbark